Shifting traffic to rail is essential for a sustainable and environmentally friendly transport policy. After all, rail is the most environmentally friendly mode of transport. But the modal split, i.e. the distribution of transport volume among different means of transport, still looks different. How can the switch to rail be made?
The modal split is an important indicator for transport planning and policy. It provides information about which modes of transport are used to what extent and where there is a need for action. It varies greatly depending on the region:
According to the Rail Market Monitoring (RMMS) of the European Commission, the share of rail in passenger transport in Europe was about 7.8 percent in 2018, while the share in freight transport was about 18.7 percent.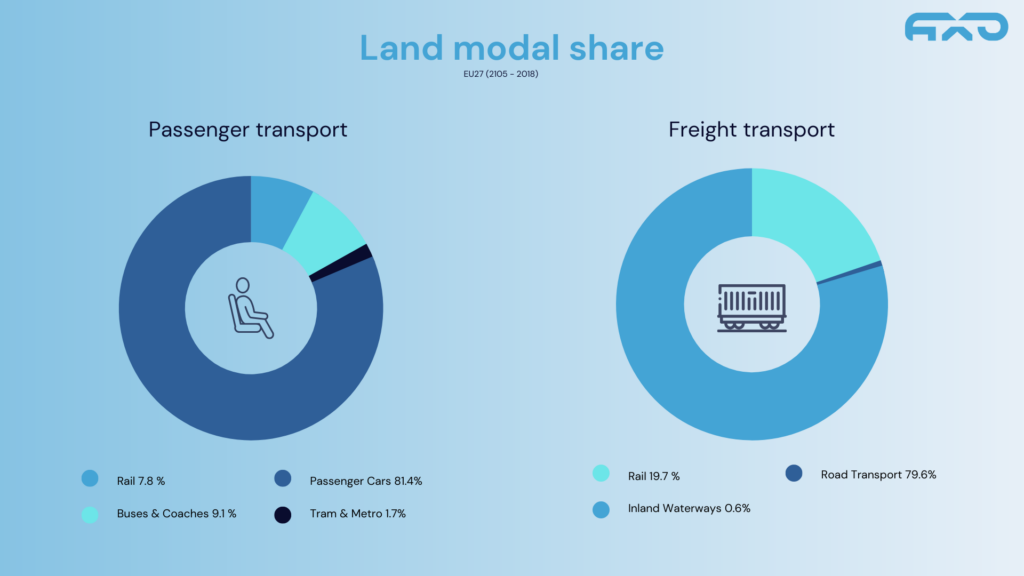 However, there are big differences between the countries. In Switzerland and Austria in particular, rail has a relatively high share in the transport mix. In other countries, such as Portugal or Greece, rail's share is rather low. Germany is in the upper midfield, although it has one of the densest rail networks in Europe. But the Germans are still a car nation, as the chart below illustrates: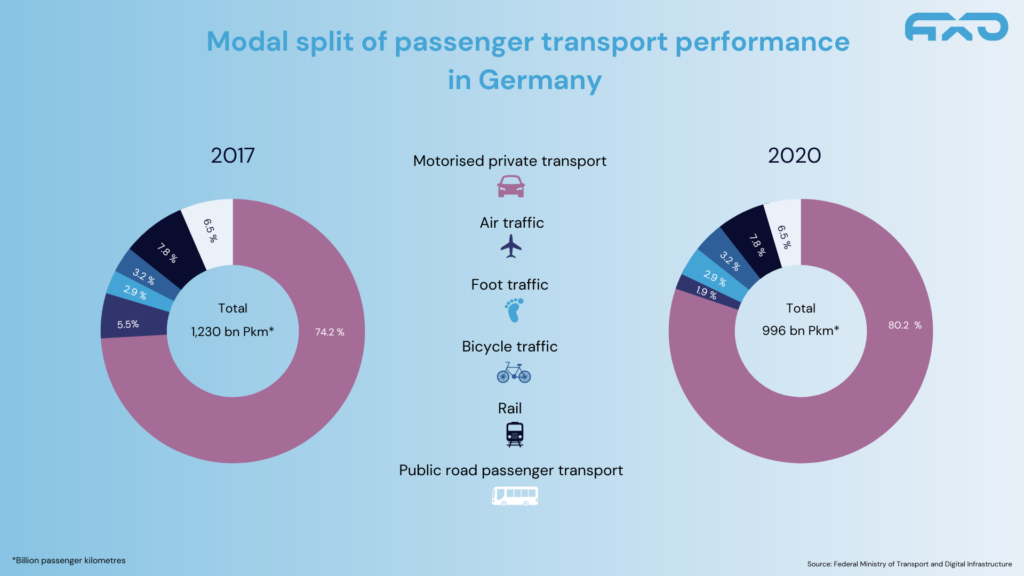 In countries like India, Russia and China, on the other hand, rail transport is much more important, both for passenger and freight transport. Trains account for a considerable share of the modal split in these countries, in some cases over 30 per cent. The share of rail transport in passenger transport in North America is only about 1 to 2 percent, while it is much higher in freight transport, at around 40 percent.
Why is the modal shift to rail so important?
Quite simply, the shift to rail is unavoidable in order to achieve climate targets and reduce environmental pollution. Compared to cars and lorries, trains cause significantly less CO2 emissions.
Besides environmental friendliness, other aspects play a role. A higher share of rail leads to less congestion on the roads. This reduces congestion, cuts noise emissions and improves the general traffic situation.
In addition, switching to rail provides added value for society. This is because the railway can ensure mobility for all people, regardless of their income or individual mobility needs. Public transport contributes to social inclusion and supports economic development in rural and urban areas alike.
Why is the switch so difficult?
A lot still needs to happen to get people to change over to rail across the board. It is important that politics, business and society work together to improve and promote rail as a means of transport. These three aspects play a major role:
Expansion of the rail networks – The expansion of the rail network plays a decisive role in the modal shift towards rail. This already starts in rural areas, where transport connections are often inadequate. We need well-developed, efficient rail networks to make rail transport more attractive, faster and more reliable. Then more trains can run, which leads to higher capacity and thus better availability of rail connections.

Shorter travel times also increase the likelihood that more people and businesses will take the train instead of the plane. In Japan, South Korea or France, high-speed trains such as the Shinkansen, KTX or TGV) are used for this purpose.


Increasing customer satisfaction – Rail travel must be comfortable if it is to become more attractive. Punctuality is high on the list of passengers' expectations – this requires investments in the maintenance and modernisation of infrastructure and trains to reduce the likelihood of breakdowns or disruptions.

Improving the equipment of the carriages, such as comfortable seats, sufficient space for legs and luggage, power sockets, reading lights and air conditioning, also contributes to the well-being of passengers. A stable and free Wi-Fi offer allows passengers to work while traveling.


Affordable cost structures – Last but not least, prices play a major role in the modal shift to rail to also enable financial benefits when switching.

The 9-Euro-Ticket, which was introduced in Germany in 2022 for a period of three months, has shown that affordable fares create an incentive to use rail transport. Around 52 million of these tickets were sold across Germany over the entire period, according to the Association of German Transport Companies (Verband Deutscher Verkehrsunternehmen/VDV). Around 1.8 million tonnes of CO2 were saved through their use. The successor, the Deutschland-Ticket for 49 euros, will start in May 2023.



Cheap or free transport offers in other European countries – Austria, on the other hand, relies on the Climate Ticket. At 1,095 euros per year, it is significantly more expensive than the Deutschland-Ticket at 1,095 Euros per year, but there are also heavily discounted offers for young and old people as well as families.

The pioneer of completely free public transport is the Estonian capital Tallinn, which introduced this model in 2013. The calculation worked out: The influx of around 35,000 new citizens between 2013 and 2018 has increased tax revenues to such an extent that the costs have long since been recouped.  

There are concrete figures on the changeover from Dunkirk in France, where the use of public transport has been free of charge since 2018. Incidentally, the business tax was raised slightly to make this possible. Passenger numbers have since increased by 60 per cent during the week. At the weekend, about twice as many Dunkirkers are on the road than before. Around five percent of people have either sold their car or decided against buying a second car.

Luxembourg was the first country to introduce free public transport in March 2020. Malta followed suit in October 2022. In Spain, too, the use of public transport is free of charge. However, the campaign is initially limited until December 2023 and restricted to short and medium distances of up to 300 kilometres.
How can new technologies contribute to modal shift to rail?
Improving the infrastructure – An important measure to improve rail transport is the modernisation and expansion of infrastructure. This includes, for example, the expansion of lines, the electrification of railway lines and investments in modern signalling and safety technology. Intelligent control and monitoring systems can minimise delays and better plan maintenance work.
Find out why digital maintenance is the key to efficient train operations.
Improving punctuality – The punctuality of rail transport can be improved with the help of modern technologies such as real-time traffic information and automated train control systems. This increases the attractiveness of rail as a means of transport and encourages more people to change trains.
Increasing reliability – Through the use of innovative technologies, maintenance and repair work can be carried out faster and more efficiently. This leads to a higher reliability of rail transport and a lower number of train failures.
Increasing safety – Modern technologies such as automatic braking and signalling systems as well as improved rail and vehicle technology help to increase safety in rail transport. This increases passengers' confidence in the means of transport and encourages them to switch to rail.
Cost reduction – Technologies such as AXO's help to reduce the cost of maintaining rail infrastructure by enabling early detection of problems and preventive maintenance.

By using IoT technologies, sensors can be placed on various parts of the railway infrastructure, such as rails, signalling systems or switches. These sensors can continuously collect and send data, which can then be processed by analytics software to identify anomalies or potential problems.

By detecting problems early, maintenance can be planned and carried out in time before a major problem occurs. This eliminates the need for expensive repairs or even replacements.

Preventive maintenance is often more cost-effective in the long run than reactive maintenance, which only responds to problems after they have occurred.
Conclusion
A higher share of rail in the modal split can help to make transport more environmentally friendly and efficient. However, further efforts are needed to achieve this modal shift. These include, for example, the expansion of the rail network, the optimisation of operational processes and the reduction of costs. If these challenges can be met, rail transport can play a decisive role in the transport sector in the future.
The future of transport is not only on the roads or in the air – there is also plenty to discover on the tracks!
Make an appointment with us and find out how AXO Track can sustainably optimise the maintenance of your infrastructure.