For decades, much more has been invested in roads than in rails in Europe. Today, the result is reflected in train cancellations, delays and line closures. The railway infrastructures are at their limits, and this with a rapidly growing volume of traffic. New ways of maintenance are needed to keep trains running smoothly and to ensure the safety of passengers and staff. In order to monitor and optimise railway infrastructures in real time, digital solutions are inevitable. What technologies are used in digital maintenance? How do railway companies and passengers benefit?
What does digital maintenance mean?
Digital maintenance is a key technology that makes the operation and maintenance of rail vehicles and infrastructures more efficient and safer. By collecting and analysing data, railway companies can plan maintenance work and make targeted decisions to look after their infrastructure more effectively. In addition, they can reduce the response time to faults to a minimum and increase operational safety.
Technologies such as
sensors
IoT systems,

Artificial Intelligence (AI)

,
edge and cloud computing as well as
robotics and drones
are being used. They ensure that the monitoring, diagnosis and maintenance of railway infrastructures are improved, while at the same time reducing operational disruptions. Unplanned outages and delays can be avoided while saving costs.
Digital maintenance speeds up the analysis and forecasting of technical faults.
The data-based approach enables better prediction of potential problems so that impending damage is detected and remedied at an early stage. Real-time data is recorded and evaluated. Based on the data volumes, patterns and trends can be identified that point to potential weak points. This leads to faster response times and improved maintenance insights. Digital maintenance thus complements inspection routines, makes diagnostic processes and maintenance work more efficient and supports the demand-oriented scheduling of service teams.
IoT sensors are a central element. They can be installed on rails, switches and signals to collect data on the condition of these components. This data is collected in a platform and analysed by AI algorithms to identify potential problems. The platform can then send alerts to maintenance teams to fix potential problems before they cause damage. In addition, the sensors can remotely monitor individual components.
The Boston Consulting Group (BCG) has comprehensively illustrated the full scope of digital maintenance in this graphic: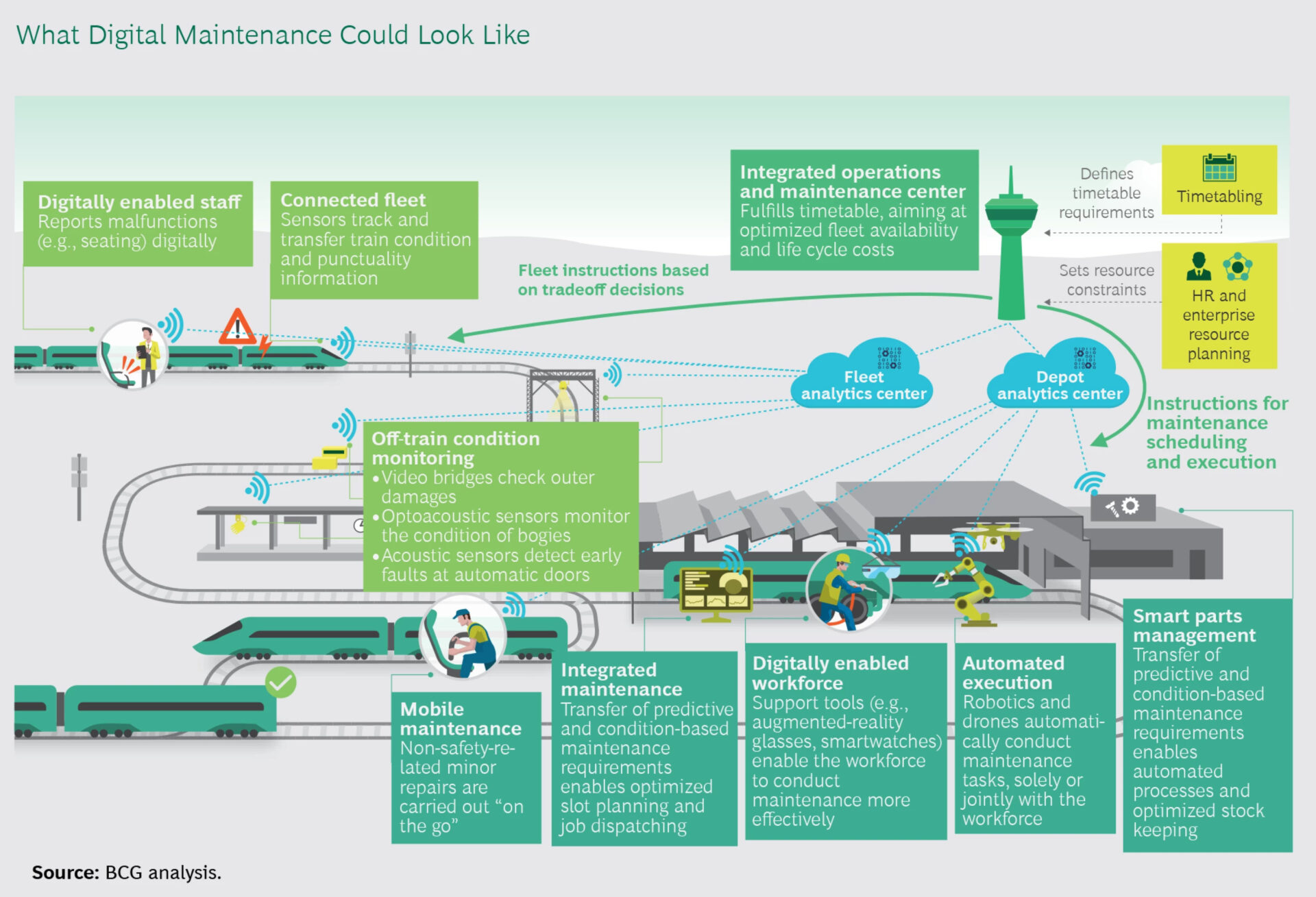 These are the advantages of digital maintenance for railway companies and passengers
Higher efficiency
By using IoT sensors and AI, maintenance teams can identify and fix potential damage early and better plan operations.
Increased safety
Passenger and staff safety is paramount at all times. Through the use of innovative technologies, potential safety issues can be identified and rectified at an early stage.
Security of supply
This point concerns freight transport, the vulnerability of which has been brought to our attention, especially in the last three years. Efficient maintenance helps to keep supply chains running smoothly and minimises transport costs.
Cost savings
Effective maintenance leads to cost savings. By avoiding major problems and better planning of maintenance activities, companies can reduce maintenance costs.
Improved reliability
Through better monitoring and maintenance of the railway infrastructure, companies can improve the reliability of train operations. This leads to higher customer satisfaction and a better image of the company.
Better predictability
By better predicting potential problems, companies can better plan and coordinate maintenance activities. This has a positive impact on operational planning and leads to fewer breakdowns and delays in train operations.
What are the challenges of implementation?
High investment costs
The development of sensor systems and other technologies for monitoring and maintaining railway infrastructure usually requires a significant investment. This can be a challenge for smaller companies.
Complexity
Implementing digital maintenance technology requires some complexity in terms of integrating different systems and data sources. Companies need to ensure that they have the necessary skills and resources to manage this complexity.
Alternatively, they should rely on the expertise of external experts to integrate existing digital solutions or have them developed according to specific requirements.
Data protection
Using sensors and cloud platforms to monitor and analyse data can raise privacy issues. Companies must ensure that they handle and store data in accordance with applicable data protection laws. When working with external service providers, they should take care to retain data sovereignty.
Conclusion
It is clear: digital maintenance offers many benefits for rail providers of all sizes. It is imperative for railway companies to keep their infrastructure up to date and maximise the value of their asset – which is only possible with digitally supported solutions. With intelligent systems, rail companies can realise the potential to deliver long-term cost savings while improving service to their customers.
At AXO, we are proud to be part of this digital revolution in the rail industry, helping to optimise and improve the maintenance of rail infrastructure. Our IoT-powered solutions are tailored to our customers' needs and requirements, providing a simple, effective and efficient solution for digital maintenance.
If you would like to learn more about our solutions and how we can help you optimise your rail infrastructure, get in touch. We look forward to hearing from you!